2022 Hyundai Kona in Lafayette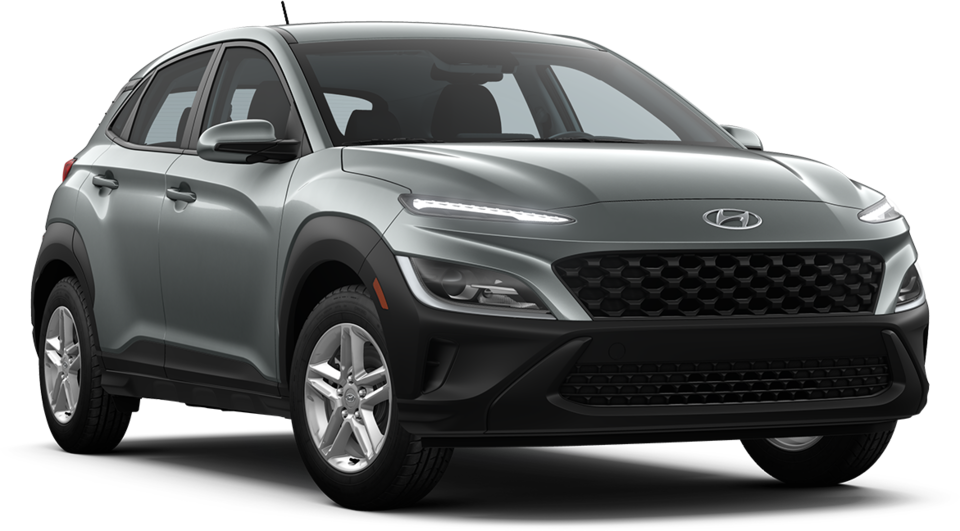 Level up with the 2022 Hyundai Kona in Lafayette, LA
While judging a vehicle by its size is easy, you won't want to make this mistake with the new Hyundai Kona. This smaller SUV packs a punch, dazzling you the moment you lay eyes on it and delivering a performance that will take your breath away.
For those who like surprises, the 2022 Hyundai Kona is the vehicle for you. You'll revel in the feeling of being kept on the edge of your seat when you select this SUV from Sterling Hyundai in Lafayette, LA.
Performance
Don't underestimate the spirit of the new Hyundai Kona. This SUV runs on a 1.6-liter four-cylinder engine that can churn out 195 horsepower. You might not make the most noise, but you'll impress other drivers with a quick jump out of the gate.
Besides, raw energy isn't everything, so the Hyundai Kona focuses on keeping you in command as well. An available all-wheel-drive system lets you navigate a variety of conditions and surfaces with confidence on any given day.
Your trips become extended with an EPA-estimated 35 mpg highway rating, and you'll appreciate every second on the road, thanks to the smooth handling of this SUV.
Interior and Exterior Design
Those who never shy away from a challenge will discover the same mentality in the 2022 Hyundai Kona. This vehicle projects strength with an unwavering front façade that displays a formidable grille and sleek headlights that add some extra flair.
You'll appreciate how these features complement the elegant and athletic frame of the Hyundai Kona. As a result, this SUV conveys an aura that makes it appear even bigger, which carries over into the generous cabin.
Crisp on the inside, the Hyundai Kona combines refined materials with high-tech features to create an efficient space. No detail is wasted or overwhelming, so you can stretch out and take a deep breath in this cozy vehicle.
Technology
More isn't always better in some senses, and the Hyundai Kona takes this into account with its innovative yet clean design. A 10.25-inch navigation and 10.25-inch digital cluster present essential information while serving as a simplified visual apparatus.
Streamlining your experience further, the Hyundai Kona also comes with a wireless charger and an available Hyundai Digital Key. From unlocking your car to re-energizing your phone, basic tasks become a breeze in this SUV.
Gone are the days when you had to clutter your surroundings with tangled wires and clunky gadgets. Now the latest features are conveniently embedded into the design of the Hyundai Kona, producing a faster and more refreshing experience.
Safety
While the 2022 Hyundai Kona sets its sights on an ambitious future, it never loses track of your immediate surroundings. You'll be able to keep yourself and your passengers safe with a suite of safety amenities:
Forward Collision-Avoidance Assist
 
Rear Cross-Traffic Collision-Avoidance Assist
Blind-Spot Collision Warning
 
Lane Following Assist
 
Highway Driving Assist
For a more compact vehicle, the Hyundai Kona contains countless technologies dedicated to defending your well-being. There's no need for brute force when you can evade incidents with the intelligence of the New Hyundai Kona.
Trim Levels
You already have more than enough reasons to select the Hyundai Kona, but there's no harm in adding a few additional benefits. Tailor your ride to your liking with six trim levels that bring unique skillsets to the table:
 
SE: Stay entertained with the Hyundai Kona SE. This trim comes with Android Auto™ and Apple CarPlay®, keeping you in touch with your favorite apps.
 
SEL: Of course, don't get too distracted. Safe Exit Warning and Rear Cross-Traffic Collision-Avoidance Assist heighten your awareness when it matters.
 
N Line: Driving should still be fun. A 195-horsepower engine and N Line Sport Seats add that thrilling element you've been longing for.
 
Limited: If comfort is your forte, then you've found the perfect trim. The Hyundai Kona Limited lets you lean back on leather seats for a more relaxing commute.
 
Electric SEL: The good times don't have to stop, either. This model provides an EPA-estimated 258-mile range on a single charge for lengthy adventures.
 
Electric Limited: Offering the same range as the Hyundai Electric SEL, this trim contributes leather seats and a heated steering wheel for maximum pleasure.
Meet the New Hyundai Kona at Sterling Hyundai
There's so much more to this compact SUV than meets the eye, so you'll need to do more than give this vehicle a brief glance. See how you can get a closer look at the 2022 Hyundai Kona by contacting Sterling Hyundai.
Sterling Hyundai

6606 Johnston St
Lafayette, LA 70503